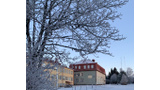 Kristiinankaupunki Finnish-speaking High School
Asemakatu 4-6, 64100 Kristiinankaupunki
Overview

- Good study results and professional teachers. 
- Individual and flexible solutions for the students
- Extensive selection of studies
- Safe, familiar, and inclusive learning environment 
- Cooperation course with a Kristinestads gymnasium (Swedish-speaking high school in Kristiinankaupunki) 
- Cooperation and networks with other high schools and universities/universities of applied sciences 
In Kristiinankaupunki you can enjoy the four seasons. There is often plenty of snow in winter, but the weather is not too cold. The day temperature is usually between -2 and -10 °C in winter. Winter turns to spring relatively fast because Kristianstad is situated by the sea. The snow usually begins to melt in March when we also get to enjoy the bright spring sun. During the spring months of March, April, and May the temperature is between 0 and +15 °C. June, July, and August are considered summer months. Then the temperature is high and we can enjoy many beautiful sunny days. It is not a coincidence that a renewable energy park with solar panels is being planned here in our city because the west coast has the sunniest days in Finland. The sea breeze also feels nice during the hottest time in summer. During the autumn months of September, October, and November when the summer heat has turned to autumn humidity, we can enjoy the beautiful colors of nature. Tree leaves become yellow and red, and the sunshine makes the colors sparkle even more. The autumn forest offers many delicacies like mushrooms and berries – easy to pick for everyone. From autumn to spring we can also admire another spectacle: the Northern lights in the sky. Kristiinankaupunki is located so far north on the globe that you can see the Northern lights now and then. During the autumn months, the temperature is about between +10 and 0 °C. 
98 km to Pori (1 hour)
102 km to Vaasa (1 hour)
178 km to Tampere (2,5 hours)
343 km to Helsinki (4 hours)
The school is located in the middle of the city on the highest point from where you can see the entire city center. Most of the services you need are within walking distance from the school. The bus station, restaurants, shops, and gym are only a 500-1000 meters walk from the school. There are two beautiful parks 1,2 kilometers from the school, and a sports area and a public swimming pool, athletics area, tennis courts, football fields, and a sports hall 1,8 kilometers from the school. The school health care is available on the school two days a week, and the health care center is located about 1,6 kilometers distance from the school. The school building itself is a historic and beautiful building, it was built in 1917 and it is considered one of the most beautiful school buildings in Finland. The city is surrounded by the sea which offers good recreational opportunities. In the city center, there are two beaches, and the sea gives us an opportunity to many various water sports like kayak paddling, SUP, jet skiing, and fishing. The actual city center, which is connected to the mainland with the longest stone bridge in the Nordic countries, has a traditional marketplace where there has been market trade for almost 400 years.
Requirements
Entrance Interview
Motivation Video
Other:
Grades / School leaving certificate
Study line:
Physical education 
Music 
Media
Economy and enterprising
Internationalism and multilingualism
Physical education – you can during every year of study take extra studies in physical education. This study program is a unique cooperation project between our school and the Swedish high school in the city. This means that students from both these schools can participate in these studies. You can take at most 10 courses in physical education during your study time.
Media- Cooperation course with a Swedish-speaking high school (Kristinestads gymnasium). In the course, you can get to know different types of media texts, and we develop as media users. The course also introduces the operation of a local newspaper and the work of a journalist. Students get to make the school's spring report in cooperation with the local newspaper. Students also make their own media projects in the course.
Economy and entrepreneurship – if you would like to start your own company and become an entrepreneur this study program is perfect for you! Kristiinankaupunki is a pioneer in renewable energy and one of the largest wind power producers in Finland. There are also advanced plans for a hydrogen gas/methane gas factory. In our study program in economy and entrepreneurship, you can enlarge your knowledge in the future branches and technology. You will learn about the circular economy, marketing and communication, and entrepreneurship. In this study program, we implement projects in which the students can make contacts and networks in the business world. You can take at most 3 courses in economy and entrepreneurship during your study time. However, we constantly develop this study program and hope that we can offer more courses in the near future (e.g. concerning video game development and renewable energy). Cooperation course with a Swedish-speaking high school (Kristinestads gymnasium). 
Internationalism and multilingualism – this study program is a multidisciplinary entity with separate courses in history, English, French, and German. Many of the courses in this study program include interesting study excursions abroad. Our students have had the opportunity to visit e.g. USA, Great Britain, Island, Portugal, Israel, Bosnia, Croatia, and Germany. You can take 16 courses in internationalism and multilingualism during your study time. Cooperation course with a Swedish-speaking high school (Kristinestads gymnasium). 
Expenses
Approximately 300−400 euro per month for accommodation with an own bedroom and kitchen.
Accommodation
City rental apartments. https://www.krsbostader.fi/home-en
Most of the accommodations are located in the center of the city and the distance to stores, the school, and the hospital is mainly shorter than one kilometer. 
An outside housing company is in charge of providing students with accommodation
Other
Our school is international. We have immigrant students from all over the world, who all study the Finnish language and various subjects in Finnish.
Free: tuition, laptop, lunch, learning materials, textbooks, e-learning environment (Microsoft Teams and Google classroom), student healthcare
Almost every year we have had an exchange student from somewhere in the world. (Erasmus)
Our students can complete courses in many different universities and university colleges during their studies in our high school.
Possibility to individual remedial education in all subjects and in learning techniques 
Possibility to complete the studies in four years instead of three years
Possibility to individual instruction in studies and selection of study unit.
We have a functional student council, where students and student tutors organize various events during the school day for all students.
We will do our best to help you study in Finnish in our high school. Welcome to study at our high school! 

Search and apply!
Departments
Kristiinankaupunki High School (Finnish)

Kristiinankaupunki