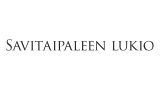 Savitaipaleen High School
Koulutie 7 54800 Savitaipale
Click here to edit the institution's profile..
Overview
Savitaipale is a small community on the southern banks of Lake Kuolimo in southeastern Finland. Our upper secondary school offers a high-quality learning experience in safe and modern facilities. Our teachers are highly motivated and group sizes are small, which enables us to place more emphasis on the individual. We also take a lot of pride in our team spirit here - our students not only enjoy studying with one another, but also like to spend time together in their free time. All of this has enabled us to achieve excellent results in the matriculation exam.
Our lessons are scheduled from 8 am to 3 pm from Monday to Friday so our students also get plenty of free time. Savitaipale offers a lot of different and affordable ways to be active and the nearest town of Lappeenranta is 40 km from here. 
Expenses
A laptop, school books, school lunch and all teaching are provided free of charge for our students. 
Accommodation
We can offer furnished apartments with a private bedroom and a shared kitchen and bathroom nearby our school for 50 euros a month.
Search and apply!
Departments
Savitaipale High School

Savitaipale