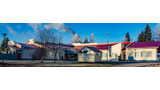 Jalasjärvi High School
Kauppilantie 1, 61600 Jalasjärvi, Finland
Overview

Community spirit, High academic achievement in Southern Ostrobothnia.
We have four seasons, winter -30-0 degrees C, spring 5 -15, summer 15 - 30, and autumn 5-15.
37 km to Seinäjoki - 135 km to Tampere - 325 km to Helsinki
Health center: 1 km, village center 1 km (all the services)
Requirement
Motivation Video
Study line
General education, Finnish language tuition.
Expense
Free: tuition, laptop, lunch, snack, learning materials, textbooks, e-learning environment, student healthcare, tutor.
Accommodation
The school is in charge of providing students with accommodation.
Since there's a cultural difference, please make sure students can live with someone at the beginning phase rather than alone as well as they are separated according to their gender.
Other
We will apply for an Erasmus+ KA210SCH project in the next application round in March 2023 for the exchange program.
Most of our students commonly apply to Tampere, Helsinki, Jyväskylä, Vaasa, Turku, and Oulu.
We are able to give extra tuition to a child who isn't meeting academic expectations or who has gaps in his or her knowledge.
Named tutors, and support persons are there to support international students.
You are very welcome to our school!
Search and apply!
Departments
Jalasjärvi High School

Jalasjärvi