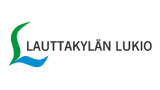 Lauttakylä High School
Lauttakylänkatu 22, 32700 Huittinen
Click here to edit the institution's profile..
Overview
Lauttakylä Upper Secondary School is a versatile and reputable upper secondary offering a vast selection of courses in all the subjects. Thus, we guarantee a student's success both in the matriculation examination and in further studies.
Good results in the matriculation examination will guarantee you a surefire entry in universities or universities of applied sciences. 

Alongside the extensive selection of natural sciences and languages, we aim to focus on international activities. Currently, we are participating in two Erasmus+ projects and one Nordplus undertaking.

Besides participating in projects, a special course, "Being International", and a course introducing international cuisines are both part of our international studies. "International Cuisines" teaches you to prepare food from all over the world.

The annual course on "Young Entrepreneurship" continues our long tradition of entrepreneurial studies. Within entrepreneurship, we also offer you an on-line study unit in business. 

Known for its team spirit, Lauttakylä Upper Secondary School is a unique community in which you are taken care by the school physician, the school psychologist and the school nurse. 
With approximately 10 000 inhabitants, Lauttakylä Upper Secondary School is located in the center of Huittinen in Satakunta. Although a rural town, ample amenities are close to you. All the central places can be reached on foot. In the vicinity of the centre, there are five rivers bringing nature close to you. Pristine nature offers you daily opportunities for exercise, picking healthy and clean Finnish berries, for example. As for safety, Huittinen is indeed a very safe place to live in. 

Job opportunities

For a small town, there are plenty of services in Huittinen, shops and fast food restaurants which will employ a lot of students. In addition, there are many companies within food industry that need seasonal employees. 

Freetime activities

In close proximity to our school, there is a vast selection of sports facilities: a public swimming pool, an indoor ice rink, a synthetic turf field for football, an athletics field, tennis courts, gyms, an indoor sports facility for badminton, padel and floorball, an e-sports arena, a bowling alley (including an opportunity for billiards, darts and minigolf) and an outdoor area for cross country skiing, mountain biking and hiking. Also, in Huittinen there are various sports clubs

providing inexpensive opportunities for practising and competing at least in volleyball ( a women's team playing in the national level), football, gymnastics (a wide range of activities), floorball, ice hockey and ringette. Generally in wintertime, it is also possible to attend skiing school. If you feel like trying it, the basics for orienteering are available too. Additionally, Huittinen is an active center of horse riding with multiple riding schools and stables. 
Also, the cinema and the library are at your disposal.

The local music academy and adult education centre offer an abundant selection of activities. Or, if you wish to take up more goal-directed hobbies, playing an instrument or studying song or dance, it is a possibility in Huittinen. The range of instruments to pick is wide as are the genres, you can go from pop to jazz or rock. 

At the adult education centre, in the evenings, you can familiarize yourself with physical exercise, music or crafts as well as the Finnish way of living.

Expenses

Some typical expenses would be:
• Food and beverages: 200 euros / month
• Mobile phone plan with unlimited data: 20 euros / month
• Hobbies: 20 – 50 euros / month 
• Leisure activies: 50-100 euros / month 
Accommodation
A typical one bedroom furnished student apartment costs around 220 euros / month. Please take a look at some example apartments from https://huittistenkaupunkiasunnot.fi/
Moving around

Huittinen is an important crossroads when it comes to traffic. We have excellent bus connections to major cities: Helsinki (about 180 km), Tampere (about 80 km) and Pori (about70 km). 

 IG: @lauttakylanlukio
Tik tok: @lauttakluk
Search and apply!
Departments
Lauttakylä Upper Secondary School

Huittinen